What Is An Industrial Athlete?
Industrial Athletes are what we call our associates: the people who are driving our clients' businesses forward. They're the people who are on the docks, on the production floors, on the assembly lines and more. Our Industrial Athletes are the heart and soul of our business.

Like any athlete, they work as a team and perform critical jobs that require talent, strength, flexibility, coordination and endurance. And just like any athlete, the better the collaboration within a distribution center, the greater the success of the team and the company as a whole.

We believe that our Industrial Athletes should be treated as any top competitor would, by providing them with innovative ways to achieve positive outcomes. Through our tireless focus on our culture and our core values, we create the greatest opportunity of success for our clients, our Industrial Athletes, and our company.
At Eclipse Advantage, we don't treat our workers as a commodity; rather, we focus our attention on the value that our Industrial Athletes bring to our clients. Our team boosts our clients' productivity by 25% and retention by more than 35%.

Pete Westermann, CEO, Eclipse IA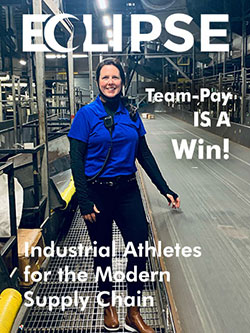 What if you could cut your turnover by 65%, boost productivity, and eliminate dead time from your warehouse floor — without paying a dime more? That's the difference that distribution centers are seeing when they stop treating their warehouse personnel as commodities and start seeing them as valuable resources. Eclipse IA specializes exclusively in the labor component of the supply chain. We're dedicated to changing the commoditization of supply chain labor, and it's paying off for our clients.
Find out more by reading this article.