TECHNOLOGY SOLUTIONS
Customizable Technology Solutions: Optimize Your Supply Chain
Eclipse Advantage can track virtually any KPI with our Customizable Technology Solutions (CTS) and cloud-based "data anytime/anywhere" reporting platform. Warehouse Service Activities, trackable POs, documented damages, online receipts, and many others are accessible through our online portal, designed for clients and carriers alike.

Dock Management System (DMS)
Improve your inbound flow. Eclipse's Dock Management System (DMS) allows for:
Real-time tracking of all inbound loads from Driver Appointment to Driver Exiting the Facility
Upload daily schedule
Manage timestamps
Log all inbound truck transactions
Live dashboard to view throughout facility with multiple monitor displays
The DMS captures any bottlenecks in the system, helping you drive efficiency in every step of the inbound flow.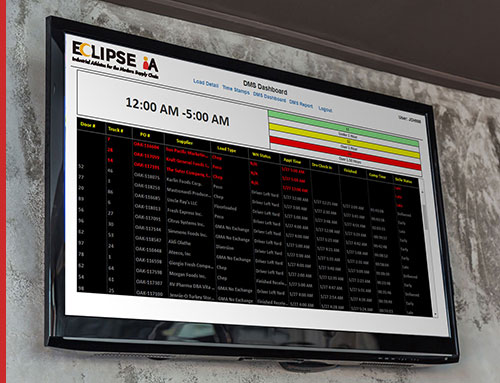 "The dock management system has greatly helped me combat detention charges, and decreased the amount of time it takes to gather information to make a decision," quotes Kim Mudrak, Client and Warehouse Supervisor in the grocer industry. "In the past I would have to communicate with the guard and Eclipse, and look up information in our receiving program and then also talk to receiving staff. All of that has been completely eliminated. Huge time savings!"

Performance Reporting
What gets measured, gets managed. We deliver the critical metrics clients need to manage their business.
Availability of staff
Turnover
Overtime hours
Volume numbers on trailers/loads, pallets, and cases handled
Custom reports
Get a snapshot of the overall health of your operation and create optimal flow of product in your facility.
These reports also quantify our effectiveness within our client's operation as well as document trends, seasonality, and dynamics within the business. How's that for transparency and accountability?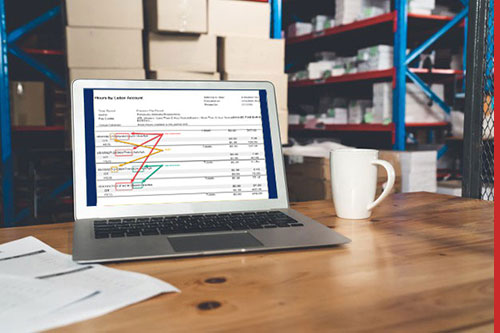 Geo-Fenced Time Keeping Through Mobile
Geo-fencing provides greater accountability at the site level.
Employees have the option to punch in and punch out via mobile phones rather than waiting in long lines.
Provides an exact location, so employees must be onsite to punch in and out.
Helps protect against lost employee productivity.